THIS COURSE will teach you to become a rock-and-clay artisan,
creating a beautifully useful way to render the best pizzas,
breads and main dishes & recycle combustibles,
while
securing you in a niche extremely attractive
to restaurant owners and all who see your ovens.
This is NOT an overstatement.
Years of doing exactly this, drives these conclusions.
ANYONE handy, may do same. 100% Guaranteed*.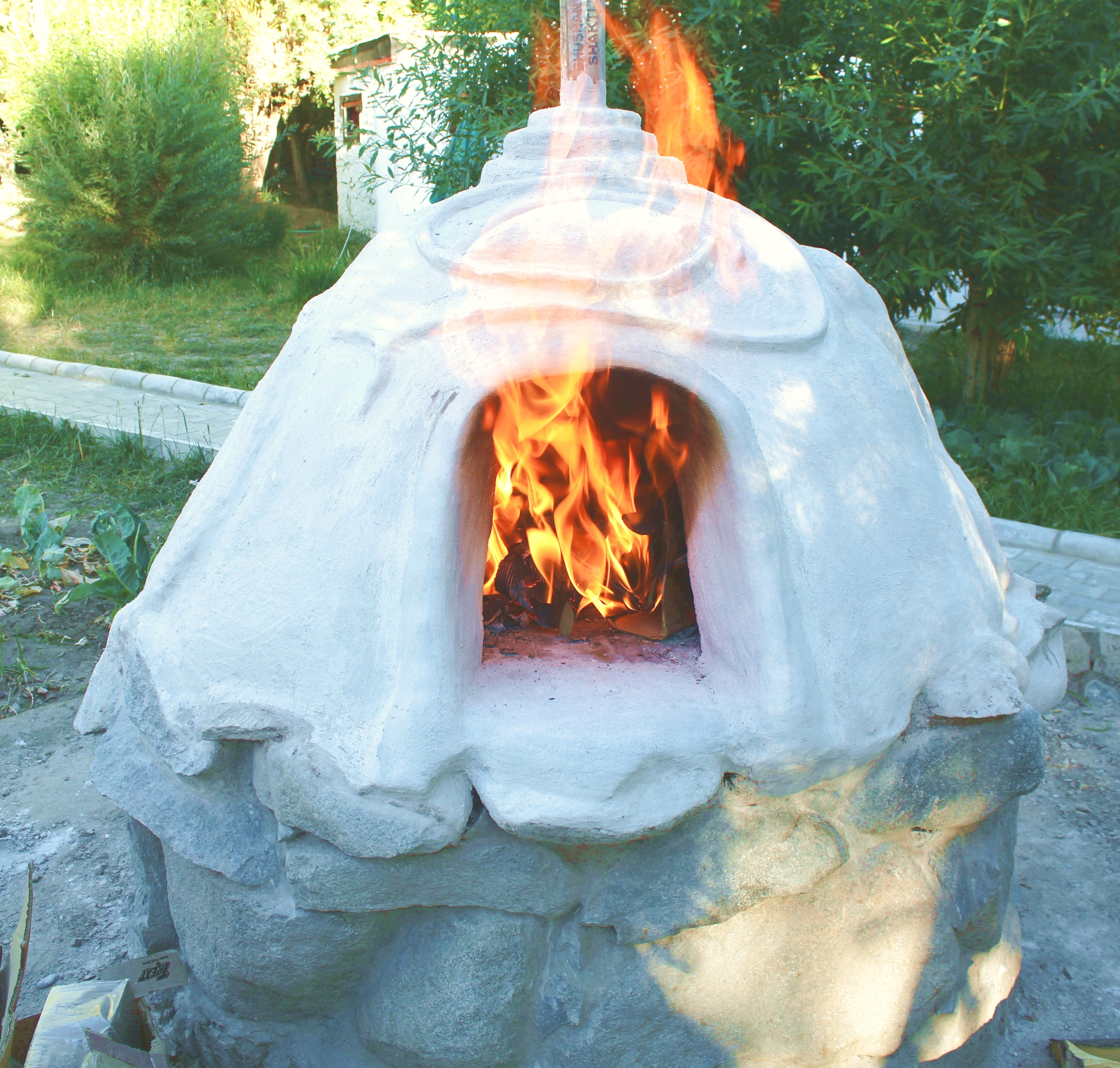 The Food Stupa, a SimPL earth oven
built for Ladakh Sarai resort in 2014.

ARE YOU READY TO CREATE?

BE the Pizza and Bakery Master Artisan
(even if you've never built anything before),
who creates, at minimal cost, those beautiful and beguiling OVENS
that mesmerize the crowd with beckoning flames and irresistible aura of FOOD!
Earth Ovens are perfect for:

that Cabin out in the Woods

Back Porch or Yard of anyone's House
any BBQ Area of a School, University or Park
any Viewable Vantage Point of a Restaurant
Terrace or Plaza of a Business or Public Center~
LEARN through on-site, hands-on Videos and Photos from Thailand, Ladakh, & USA,
how to become the go-to Oven expert that turns any unused,
covered space into a center of excitement and activity,
for all lovers of the best-fired foods-
from legendary Pizzas
to mouth-watering Breads and Pastries,
Jacket Potatoes, Main Covered Dishes
and open Casseroles.

Creating an Earth Oven may be the ideal Permaculture/Natural Building project,
as the ovener is shown how to:
Build with clay/earth, rock & sand,
Sculpt or make Art out of clay,
Fire an Oven with paper wastes and wood/tree scraps,
Recycle unwanted durables in the Oven base, and
Cook the best Pizzas and breads anybody has ever tasted!

~
SCULPT OVENS for your own use,
as a service for your loved ones,
or become an Exclusive & Esoteric niche-Artiste for high-end restaurants and resorts-
the Choice is Yours...

YOUR Sensible, Indestructible, Enduring, Sculpted Beauty- made SimPLy by gathering and shaping nearby clay, sand & stone together with a few fellows- takes 5 days on average to build & sculpt.

From there, it's all favorite meals & food parties with your new lifelong Best Friend!
DO THIS thing! and, have some FUN out there, would ya?
- im

* Our 100% Guarantee Pledge: IF by taking this course AND building a functional oven, you do NOT at least attract the attention of friends/raving fans, who want to engage in oven-products (gorge on pizza, bread etc), and hang around your new best friend with you- OR attract interest from others, to have an oven built for them- then we will refund the course 100%.
Just send us photos of the oven in Course Comments, and an account of the difficulties you may have had in building/presenting it- and we will first see about resurrecting your situation, free of charge!